Texting Truckers
February 2016
---
In January 2010, the federal government passed a law that prevented bus drivers and truckers from sending text messages while driving. The legislation came as a reaction to distracted driving. A distracted driver is one of the top reasons that accidents occur on the road. Due to the size and weight of a truck on the road, the threat is magnified when a trucker is texting.
An accident with a truck can lead to serious injury or even wrongful death. Truck driving collisions are further complicated by the interstate nature of the trucking business and complex insurance policies.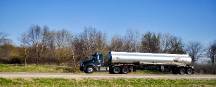 If you have been injured due to a texting trucker, you should consider contacting Herrick & Hart. At Herrick & Hart, we have dealt with trucking accidents and know many of their causes. We have been helping the injured for more than 60 years. We offer a free consultation in personal injury cases. You should never go it alone in a personal injury case, but instead seek experienced representation.