Missed Work after an Injury
May 2017
---
Everyday that you are not working after an injury results in lost income. This income can be recovered through a settlement or at trial. Few individuals are able to miss much time from work and stay current on their bills. After an injury, you not only fall behind on your own bills but have new bills pilling up for medical expenses.
At Herrick & Hart, we see the financial strain that an injury can place on a person who misses work. An injured person also has to be concerned about when they return to work whether they will be able to perform their job. In some instances, a person has to be retrained or seek a different type of employment. An injured person may also miss work once they return for additional doctor and rehabilitation appointments.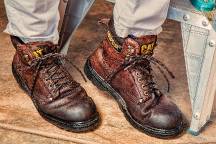 If you have been injured due to fault of another, make the informed choice that so many others have made for over 65 years. Herrick & Hart has been helping the injured get compensation under the law for over six decades. We offer a free consultation on personal injury cases.