Roads Getting More Deadly
August 2016
---
A recent government report found that fatalities on United States'roads increased by 7.2% last year over 2014. This made 2015 the deadliest year on the roads in over a half a century. The final tally for the year of 2015 was 35,092 deaths. Even with the all of safety features of the modern vehicles, the speed at which vehicles travel coupled with the traffic make the roads as deadly as ever.
At Herrick & Hart, we see the impact of injuries caused on the roadways each day. We help people put their lives back together after they have been injured. For some who are injured, the recovery process is quick and for others the process is long and tough.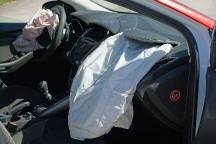 For personal injury cases, Herrick & Hart offers a free consultation. We believe that all who are hurt due the fault of another should be able to talk to an attorney so they can know and understand their rights.