Help You Get Justice
August 2016
---
An injured person not only faces a recovery from the physical injury. The injured person is also met with the complicated legal process that follows an injury. This process should not dissuade a person from seeking justice. In fact, when a person is injured and nothing is done the wrongdoer gets to continue with their behavior that caused the injury. If a person fails to act and stand up, then the path is open for the dangerous behavior to continue and for others to get injured.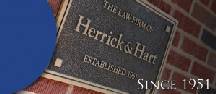 At Herrick & Hart, we realize how complicated and daunting the legal process can be to an injured person. That is why each day we fight for justice on behalf of our clients. We work to make sure that those who are responsible for hurting others are held accountable.
If you have been injured due to the fault of another, we make it easy for you to approach an attorney. We offer a free consultation on personal injury cases. If you are in doubt as to whether you should speak to a lawyer, we recommend that you contact an attorney to erase the doubt. An attorney who is trained in the law may see issues and theories of which you were not aware.